The gals over at
HowDoesShe.com
were again my saving grace when it came to treats for school. You may remember my
Easter treats
from earlier this year that were a combination of inspiration from
Bakerella
and How Does She. I decided very last minute this year I was going to make these cookie pops, but I figured how hard could they be; I already had practice making the cookie part, so all I really had to focus on was decorating. Last Wednesday night I worked my crafting magic and made these adorable Mummy Oreo cookie pops.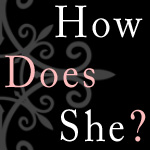 (images taken from HowDoesShe.com)
Since I had previous practice making the actual cookie pop, I whipped through this part pretty fast. Lollipop sticks on the cookie, dab of chocolate and the half of cookie back back on top. Let cool and harden. Dip cookie pop in chocolate. Let cool and harden.
Next up came decorating...so simple. I whipped out my old cake decorating stuff and got started. (Yes, to those of you that don't know, I took a cake decorating class in college for fun with a few friends.) I put some chocolate in my cake decorating bag, threw on my #6 Wilton tip and started piping lines back and forth over the cookies. I then used icing gel to put two dots on each cookie for eyes. Again, SO SIMPLE!!!! I actually wish there was more to write...but there isn't, it was just a really easy cookie. I let them dry overnight, bagged them up and took them to school on Thursday for the kids at preschool. I repeated the entire process on Thursday evening for treats on Friday for the daycare kids.
Voila!!! How cute are these?!?!?!
On Friday, Emerson had a party at her daycare and we signed up to bring a special treat. So before I started my mummy making...Emerson and I took some time to make the treats for her class. We decided to take the easy way out and dip pretzels in chocolate (especially since we were getting ready to the same thing to Oreos) and add sprinkles. Other than store bought, you can't get much easier, plus it's super easy for a preschooler to help with. Emerson had fun dipping all the pretzels and then handing them to me to decorate. Super simple and so rewarding to spend time with your daughter making treats for her class!! Thanks for all the help, Emerson!! Love you!
Hope everyone had a very Happy Halloween
full of wonderfully delicious treats!!!